This article contains ten lines and a brief essay about Ruskin Bond. Ruskin Bond is a popular writer in India. Throughout his life, he has received numerous honours. He has written so many short stories and books. He also earned the Padma Shri and Padma Bhushan awards. Here are 10 lines on Ruskin Bond:
10 Lines on Ruskin Bond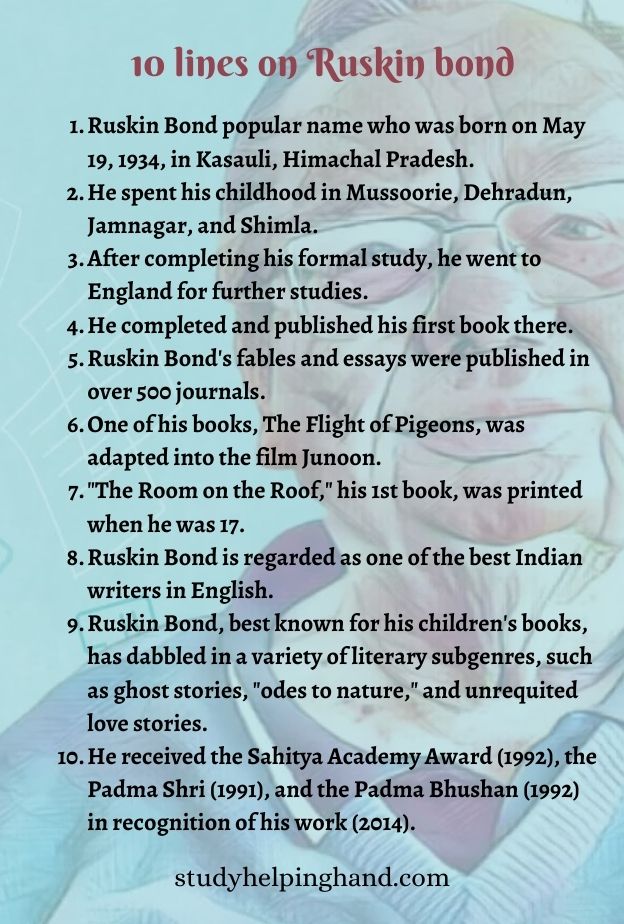 Ruskin Bond popular name who was born on May 19, 1934, in Kasauli, Himachal Pradesh.
He spent his childhood in Mussoorie, Dehradun, Jamnagar, and Shimla.
After completing his formal study, he went to England for further studies.
He completed and published his first book there.
Ruskin Bond's fables and essays were published in over 500 journals.
One of his books, The Flight of Pigeons, was adapted into the film Junoon.
"The Room on the Roof," his 1st book, was printed when he was 17.
Ruskin Bond is regarded as one of the best Indian writers in English.
Ruskin Bond, best known for his children's books, has dabbled in a variety of literary subgenres, such as ghost stories, "odes to nature," and unrequited love stories.
He received the Sahitya Academy Award (1992), the Padma Shri (1991), and the Padma Bhushan (1992) in recognition of his work (2014).
Also read: 10 Lines On Save Earth In English
Essay on Ruskin Bond
Ruskin Bond is a well-known author in India. He was born in Kasauli, AD 1934. He finished his education at a Shimla school. Untouchability, his first novel, was published in 1951. He finished his first book, "The Room on the Roof," when he was 17 years old.
He wrote a number of children's books and novels. Some of their best-known works include Blue Umbrella, A Flight of Pigeons, and Funny Sides Up. He was awarded the Padma Shri in 1999 and the Padma Bhushan in 2014. Ruskin Bond pioneered the genre of English children's literature. He received the Sahitya Akademi Award in 1992.